5 in 1 Cavitation Machine
This machine combines the latest liposuction technology cavitation and the most
widely use technology radio frequency.Cavitation is a process by which the fat cells
are disturbed by tiny dubbles formed due to the thermal effects of ultrasound.These effects caused by cavitation from a powerful synergy against cellulite and local fat deposits.Mesnwhile,a high frequency tripolar RF is applied to the deep issue to stimulate the collagen.RF not only increase the effect of cavitation,but also lift and tighten the skin.It is effective for body shaping.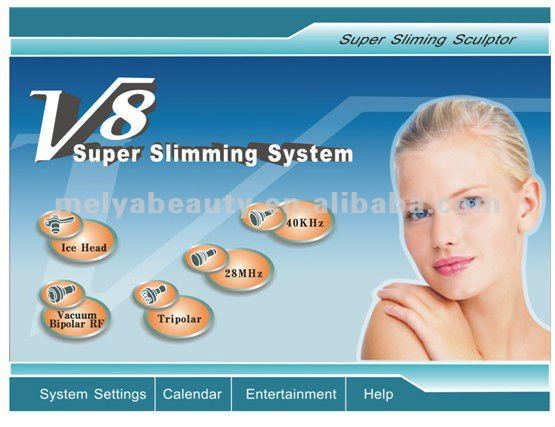 1.Vacuum Bipolar RF:
Dissolve fat,lymphatic drainge,firm skin and enhance skin elasticity.


2.Tripolar Body RF:
Tripolar RF is a kind of polarized electronic movement which influences polar electrons in tissue to produce biologic effect. At every time, it produces movements of polarized electrons, which will induce electrons collision, revolving and twist then produce biology heating. High-frequency electrons produced by Radio Frequency, will not wtimulate any inductive nerves, will not produce muscle shrinkin, only make body produce heat energy, that is Diatherym.

3. 40KUltrasonic vibrations.
It works 1-4 milion times per second,leaving the skin firm and smooth the cellulite to bread down exceed fat.This machine utilizes sonic vibrtions to reduce lines,leaving the skin firm and smooth.

4.28K Cavitation:
Dwindle fatty cells, crack fatty cells, and reduce the amount
of fat cells through high frequency Ultrasound wave.

5.BIO LED Therapy:

Stick to enhance rejuvenation: use of positive and negative micro-current activation energy release skin cells, so that rapid synthesis
of fibroblasts Collagen, elastic skin revert to the original compact,
the skin causing t the skin to stimulate the muscle tension is increased,
thereby gradually eliminate wrinkles, prevent skin aging, restoring
skin elasticity, facial improvement.After dissolving the fatness, use
the oriented cellulite cracking head with color spectrum, to stimulate
the relevants of the body, re-exhaust the heat energy and fatness.